[ archivio 1# ] Bari
2014
41°08'24'' North latitude // 16°50'49'' East longitude
Sound Composition / Installation
Audio, loop, dimension variables
| Materials | speakers, subwoofer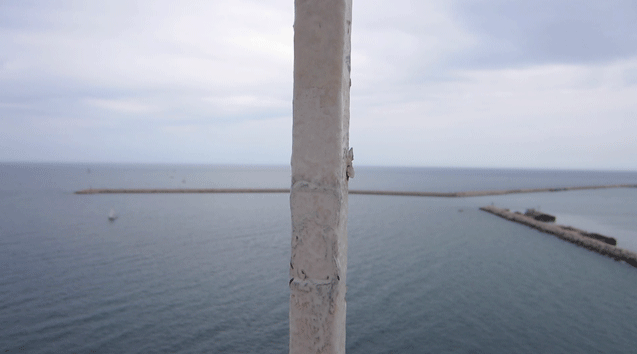 | still from the video |
___
I hunt  the sea, the wind,
in the folds of this city of layered history
In people who are stores of memory
For a transmission of which I may become guardian
The voice suspended in the beam of the Lighthouse
So that it can return to the water
And reach the depths
To later emerge in us,
as the rhythm of the waves.
___
It won't just appear as a dream that vanishes, an almost timeless journey, the chance access to the secret life of this disproportionate grayish tower with its crystal refracting dome, but it is a true revelation, your acquaintance with this new and blazing area of the peninsula of San Cataldo (41°08'24'' North latitude // 16°50'49'' East longitude)
A prime lens: light range of 21 and a half miles , sighted by ships just appearing off the head of Santa Maria di Leuca. Lighthouse sea lane, with a white light, six circular rays forty seconds each, which cut through the dark hinterland and sea.
Whosoever manages to reach that forgotten vision, out of breath, could tell wonders. It is a breathtaking view, as from a nest of eagles. What could be seen on the way up, from sixteen cracks, extends to infinity. Despite the icy gusts, the spirit abandons itself to romantic fantasies.
It dominates the backwoods, the countless villages, and tracks the winding roads; is master of nature and mankind, land and sea, to the four cardinal points.
Up there, colorful splendor and the kaleidoscope's games
Ecstatic loneliness, where silence soars so high and light, that memory falls.
(anonymous document, Lighthouse of San Cataldo archive, Bari, Italy)